This is my website, dedicated to Melissa Joan Hart, to provide multimedia content and news to those interested in Melissa.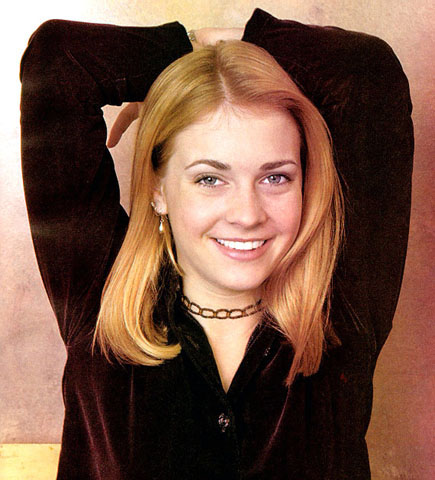 Melissa currently plays "Sabrina", in "Sabrina the Teenage Witch" (STTW).
Melissa used to play "Clarissa" in "Clarissa Explains it All" (CEIA)
Melissa has also starred in a few movies (besides the Sabrina movies, of which there are 3 now). Some are:
Backflash
Drive Me Crazy
The Right Connections
Twisted Desire
Two Came Back
Silencing Mary

Melissa had small appearances in the following:
Not Another Teen Movie
Can't Hardly Wait

The Sabrina movies are:
Sabrina the Teenage Witch
Sabrina Goes to Rome
Sabrina Down Under

Melissa has also had guest starring roles in other TV series.
If you still don't know who she is, then check out a few of the pictures on the menu :-)
I don't have any information about the series "Clarissa Explains It All", as I have only seen two episodes, no thanks to the pathetic programming behind Australian TV. Apologies if you were looking for information about this series.
My site looks alright (IMHO), but it is eternally under construction :-)


TIP: If you're having trouble reading this page, due to your monitor not having the correct gamma adjustment, press CTRL+A, or use the "Select All" feature of your browser..
---
---
Want to contact Melissa?
Sabrina the Teenage Witch moved from ABC to the WB network a little while ago, so the mailing addresses also changed..
Melissa's updated fan mail address is:
Melissa Joan Hart
c/o Sabrina the Teenage Witch
WB Network
4000 Warner Blvd.
Burbank, CA 91522

While we were told about the old ABC address "Any other address doesn't actually reach her. This is the one and only address where fan mail is accepted.", it turns out that another address worked.
Thanks to Gordon, the address where I sent Melissa a birthday card was confirmed as a working address. The address was:
Melissa Joan Hart
c/o Sabrina, the Teenage Witch
Paramount Studios
5555 Melrose Ave
Trailer 35
Los Angeles, CA
90038
A slight variation on the above address is:
Melissa Joan Hart
5555 Melrose Ave
Modular Bldg. 100
Hollywood, CA. 90038

The above address came from Melissa's assistant in November 2000, it's not known how long it will be valid for, but I sent Melissa a birthday card using that address in April (2001). So basically, the three addresses above all have the same chance of getting to Melissa.
---
NEWS
This is a mixture of news regarding Melissa, and news about my website.
Most of the information and news items here are from the "Clarissa Mailing List", mainly run by Donald Lancon. The information presented here is really a collective effort of everyone who contributes information and URLs to the mailing list. Donald's Melissa site is here, it contains information about Melissa, Clarissa, Sabrina, and other productions and public appearances Melissa has been involved with.
Want to get your name on my site? Send me an interesting piece of information worthy of being mentioned as a news item here, and I'll credit you as the source (if you like, or you can stay anonymous as some people prefer).
---
10th January

Urgent Update - Melissa Engaged

According to E! News, Melissa and her current boyfriend, Mark Wilkerson of "Course of Nature", are engaged. Apparently Mark proposed to Melissa on 26th December last year after they exchanged Christmas gifts. Melissa told Mark to "Shutup!" and then said "Yes!" after she was presented with the ring. There are a few more details about it here. I really don't know what to think about this.

Haunted Mansion
There's an interview with Melissa at the opening of "The Haunted Mansion" (an amusement ride of some description), which you can read here. That site also features a few high detail photos of Melissa.

American Music Awards
Apprently Melissa will be appearing at this year's AMAs, on January 13, to present one of the Awards. A list of other presenters is available here.
---
1st January

Merry Xmas, Happy New Year
I'm not even going to try to come up with an excuse for taking 6 months to do an update, I'm sure you've heard it all before, so instead, I'll just get on with the update..

New Year's Resolution
While I'm mentioning New Years, Melissa's New Year's Resolution, according to here, is to get a new new years resolution, since the same one she uses every year, "not to sweat the small stuff" doesn't work so well.

New Site Directory
The Webmaster of www.simplymagic.cjb.net emailed me recently, about his new site where you can list yourself as a fan of Melissa, and the address of your site if you have one. Go check it out here. (Watch out for the popup ads though).

Thanksgiving
Melissa was out serving turkey to the needy again this year, there's a small article about it here.

Craig Kilborn Show

Melissa was on the Craig Kilborn Show early in November (or late October) last year, there are pictures and more on this page, thanks to Donald Ferry for that.

SBC Centre
Melissa was scheduled to be appearing at the opening of the new SBC Centre in October last year, but then she missed her plane, so she didn't :-) There are articles about it here and here, in case you want to know more.

Melissa Apparently Demands "Sex Up Sabrina"
One of those reasonably dodgy tabloid rags printed and article with the above headline in late October last year. It basically claims that Melissa is sick of having STTW aimed at children, and would like to put some more mature content into the show. I think the article is at the least very exagerated, if it's not completely made up. You can read it here.

"Drop Eggs"
There's an article here about how Garry Marshall (who recently guest starred in STTW, an an episode with Avril Lavergne, article about that here) is planning a project called "Drop Eggs", in which Melissa would "play a kind of crazy girl running from everything. She's kind of sexy in it, and it will also be a good acting stretch for her."

"Take a Hike"

Melissa participated in the "Take A Hike" event in October last year, to support breast cancer research. You can read the idea behind it here, or you can view pictures from the event with Melissa in them here, here and here.

New Season of STTW
There's a fairly long article here about the changes made to the new season of STTW. This article was published on October last year, so the season it talks about (where Melissa starts working for a music magazine) is probably finished by now anyway :-) There's another article about it here.

Review of Game Boy STTW Game
There's a long and thorough review of "Sabrina: Potion Commotion" here (click through past the ad, watch out for the popup), which basically says that while the game isn't rubbish, it's also not terrific, just a nice mediocre, but it also mentions that almost every game that comes out targetting young girls are rubbish, and that this game is better than almost everything else in the same genre. I haven't got a Game Boy, but even if I did, I wouldn't be buying this game (just becuase I'm a 20 year old male :-).

Jumptheshark.com
Tony set me an email letting me know about a new site he had found, at www.jumptheshark.com. It's a site that lists when shows have reached their peak, and are now going downhill, or have anticlimaxed. This site decides when shows have done that based on comments people post, you can read the page specific to STTW here.

"Fighting for Our Future"

Melissa hosted a one hour documentary called "Fighting for Our Future" on October 10th last year, presenting stories of several young women with breast cancer and the founders of the Young Survival Coalition. You can read more about it here, and Celebs who do Yoga
There's an article here about celebrities who do Yoga, and it mentions that Melissa does, and features a (low quality) picture of Melissa, just a stock picture though, not of Melissa actually doing Yoga or anything.

4 Paws For a Cure
The second annual "4 Paws For a Cure" dogwalk for the National Childhood Cancer Foundation was held on September 28 last year, at Pacific Palisades' Temescal Canyon Park. Melissa and Soleil Moon Frye were present, among other Celebrities from other TV shows, you can read more about it here, and here. The Official page about this is here.

Episode Guide
Donald Lancon Jr found a pretty good episode guide for STTW, you can visit it here. I won't bother to post the other bit of information in that email, about the fact that the 6th season of STTW started in the UK in September last year, oops, just did :-)

Intimate Portrait

An episode of Intimate Portrait was shown about Melissa in September last year, and apparently it's being shown again in January. Small article about it here.

Video Music Awards
Donald Ferry has put a page containing some really big pictures of Melissa at the VMAs in August last year. You can see it here. There's also an article about it, which briefly mentions Melissa (and that her outfit was "lame") which you can read here.

Melissa Sighting.
Sam sent me an email to tell me he thought he spotted Melissa in New York City on August 31st last year, the day after the VMAs (item above) held in NYC on the 30th, while he was there on a business trip. It does seem likely that Melissa was there, so I'm willing to believe it :-) Anyway, Sam says "As I was standing on the corner of Lexington and 63rd, I saw a girl buying ice cream at a street vendor. After a few seconds i noticed that it was Melissa Joan Hart! I would bet my life that it was her. She had her hair up in a small bun (which led me to believe it was short). By the way, she was with a guy and they went to shop at Diesel after she got her ice cream."

Celebmatch.com
based on your birthdate, you can be matched to celebrities, and it will tell you how compatible you are with them. You can try matching yourself to Melissa here. I'm 99% compatible emotionally :-) but only 6% physically though, don't know if that's correct :-)

STTW Among "Best Shows on TV"

Each year, the Parents Television Council rates the shows on TV, and STTW was again rated amongst the best on TV, number 3 this year. you can read more about it here, and view the top and bottom ranked 10 shows here.

Melissa Site
David asked me to post a link to his site, at www.sabrina-mjh.com. I've had a really quick look, and it looks like the site is full of really cool stuff, pictures, and lots of info and links.

WB11 Morning News
Melissa appeared on WB11 Morning News in August last year, there's a series of photos of Melissa preparing to go on, you can view them here, and a story about it here.

Melissa Forums
Owen Rudge has launched the Melissa Zone Forums, which you can access here. Looks like there's provisions for discussion of everything Melissa related there.
---
---



---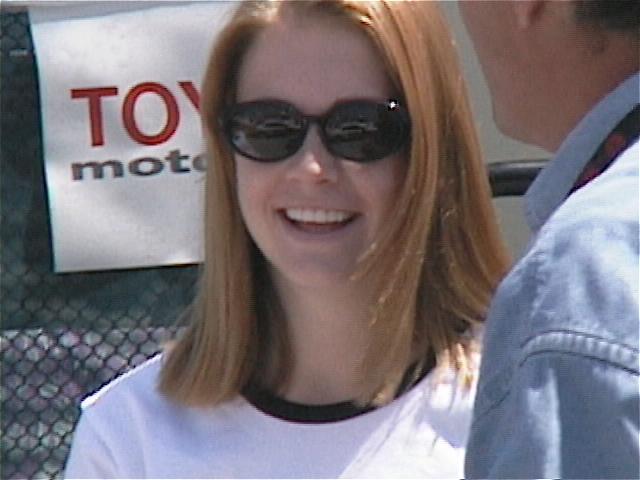 Melissa at the Long Beach Grand Prix in 1999
---
---