This is the news archive of articles from 2001.
All of the old news is listed in chronological order, with the most recent at the top.
---
December 2001
---
18th December
Jeannie Meets Sabrina
An article here has details about Barbara Eden guest starring on an upcoming episode of Sabrina, as Sabrina's mean great-aunt Irma. This episode will air Jan. 11, 2002. Hanson also guest star in this episode (interesting combination), with Isaac Hanson as Roxie's ex-boyfriend.
Cool Fansite
MellowYellow emailed me about her site, so I've just been to check it out, and it's really cool, you can check it out at http://zap.to/sabrinatheteenagewitch. Cool Xmas pictures on there at the moment.
Gallery of Melissa Pics
Karen Wilson found a gallery of Melissa images over on excite.co.uk, you can view it here. Oh, and Allover Press also have some Melissa images available, you can visit their search page here and search for Melissa.
STTW Xmas episode in UK.
The Christmas episode of STTW that was shown on the 15 Dec last year ("Sabrina's Perfect Christmas") in the US has not yet been shown in the UK, and apparently it will be shown this Friday, at 5PM. I don't know what channel, but I assume you can "check your guides". This episode was shown in Australia a couple of months ago, so I doubt it will be shown again here. There's no Christmas episode in tthe 6th season, so US viewers will miss out, and I guess that means that Australia, the UK, and other places will next year.
---
5th December
Santa Mouse and the Ratdeer
The voices of Melissa and Emily feature in "Santa Mouse and the Ratdeer", description is "Santa Mouse and his team are stranded with a broken sleigh on Christmas Eve." You can see this on Fame, at 3PM ET on the 14th, and also on the 23rd, at 1PM.
Usher
R&B lothario Usher will be appearing on STTW as a "witchy love doctor", to offer advice in song. I don't know when this episode will be showing, but there's a few more details about this here.
Showstyle.tv/Navy Runner Dress
On www.showstyle.tv Melissa is featured wearing a "Navy Runner Dress". Just a tip, don't try ordering this dress, according to Showstyle, "The navy runner dress never arrived into warehouse due to quality defect issues beyond our control. We do not expect to recieve this style in the future and are having to discontinue it". It doesn't say this on the site anywhere, that I'm aware of, and they apparently will still accept orders (and charge you) for it, but only after many phone calls and emails will you be told this. I would assume the rest of their stock is alright, just not this one item.
Santa the Terminator, and other TV appearances
This Saturday Night Live skit, starring Melissa (of course), should be shown during the episode of SNL on Comedy Central at 2AM (ET) Friday morning. Donald Lancon Jr mentions that it appears very near the end of the episode. Melissa can also been in the episode of 'Just Shoot Me': "Fast Times at Finchmont High" to be shown on the 10th, 'Clueless': "Mr. Wright" to be shown on the 13th, 'Christmas Snow' on the 16th, at 3PM ET, on Hallmark, and apparently the Martha Stewart Special from last year will be shown again.
---
November 2001
---
26th November
Thanksgiving Lunch
There's a Real Audio report available about the Thanksgiving lunch that Melissa was involved with, you can listen (or download) it from here. Melissa had this to say: "We're actually on clean up duty, me and my family, my boyfriend," she explained. "We're going to be cleaning up and making sure the tables are clean by the time the next set up people come in and sit down to eat."
Melissa in Poland
No, Melissa's not going to Poland (that I know of anyway :-). Mike let me know that episodes of STTW can be seen every Sunday at 11:30AM, on Polsat, and there are details about it here. Mike also let me know that in Poland you can see Drive Me Crazy on the 28th November, at 6:30PM, on CANAL+Blue.
Melissa on Hollywood Squares
Donald Ferry has put some screen captures and a couple of video clips of the recent appearances of Melissa and Soleil on Hollywood Squares, it's on his site here.
CelebrityGame
There's a new website at CelebrityGame.com, where you can "play games with your favourite celebrities". The Melissa page over there is here, and "the possibility to match yourself to Melissa" here. Hmm, I'm only a 40% match for Melissa, oh well, talk about having yourself on anyway :-)
---
23rd November
InStyle: Celebrities at Home
This is a new show, the description is:"Touring the digs of fashion designer Donatella Versace, actors Kelsey Grammer and Melissa Joan Hart, singer Jessica Simpson, magician David Copperfield and Latin crooner Marc Anthony. Featured are remarks from the celebs about their interior decor and home entertainment." The time for this is Tuesday, 4th December, on channel 9 KUSA, at 7PM (Mountain Time, NMB in Denver).
LA Times Story
There's a new story in the LA Times about Melissa, about the Sabrina series particularly, and how it's suitable for kids. You can read it here.
Melissa helps out
If you look here, you will see a series of pictures of Melissa helping out at a Thankgiving lunch for homeless people. The pictures show Melissa cleaning up.
Melissa on E! News Daily
Melissa appeared on E! News Daily yesterday, in a segment about the Thanksgiving lunch she participated in, and it mentioned that Melissa was cleaning up.
Hart Birthdays
Melissa's half sisters Alexandra and Samantha recently had birthdays, Ali is 8, and Sam 5. I believe you can send them fan mail to Melissa's addresses, if you want to send them birthday cards etc.
---
22nd November
USO Pictures
Navyphotos.com have made available some pictures of Melissa on an aircraft carrier, as part of the USO show, you can view them here, and more here. Thomas found a couple more pictures without links on those pages, they are here and here. Oh, and there's another picture of Melissa here. In this picture and this picture, there's a suspect item in Melissa's hand, but it's alright, they're ear buds :-).
Melissa's Popple
The price on Melissa's Popple is getting up there, $275 at the moment. This is a charity for auction, so go and have a look, and see if you can run the price up a bit :-). The auction is here.
---
17th November
No Xmas Episodes
From here, details about how there will be no Christmas episodes of any of the WB series', including Sabrina the Teenage Witch. Melissa said `We're not allowed to do a Christmas show,' `The network is afraid that if a tragedy happens in the country and we have to be pre-empted, the episode will never air. It's weird, and it's sad. We changed our holiday episode into a birthday story that is supposed to air in January -- but you'll be able to tell it was meant for Christmas.'. I don't think I need to say at this point, that by making changes like this, "they" have won.
Melissa to dish out Potatoes and Turkey
From here, details of Melissa intending to participate in a Thanksgiving charity event, helping to dish out potatoes, turkey, and more, to over 5,000 homeless on Skid Row at the Los Angeles Mission.
Melissa's Popple
I went to look at the auction for Melissa's Popple a few hours ago, to see what sort of huge price it had gotten too, and I was very surprised to see that it had received no bids! Of course, I had to put a bid on it, the opening bid was only $50 so I put $100 on it, and that lasted for the last few hours :-) I'm still happy to think I was the first bidder on it. You can view the auction here. I would normally say "I dread to think what price this will get up to", but since this is a charity auction, all the proceeds are going to the Starbright Foundation, so whatever price it does get up to, it's worthwhile. Update: I just went to look at it again, and it was only at $102.50, so I whacked another $50 on my bid ($150) but I was immediately outbid, so that's it for me, too bad the Australian dollar is so pathetically worthless.
---
16th November
Patriot Popple
Melissa has designed a "Popple", which has been called "Patriot Popple", for a Charity auction being run on eBay. You can go here and click on the auction to view it. I dread to think what the bids will get up to on this, more than I'm willing to pay, that's for sure :-) (Only due to the pathetic value of the Australian dollar).
Hollywood Squares
Melissa and Soleil appeared on Hollywood Squares on the 13th, and apparently they shared a rather intimate kiss. I haven't seen any pictures or video of this yet, so I can't tell you any more than that.
Goddess in the Doorway
Mick Jagger performed a show at the El Rey theater yesterday, as a showcase for his new album "Goddess in the Doorway" (to be released on the 20th) and Melissa was expected to be a guest, I don't know if she did or not, or have any pictures, but I'll put any up that I receive. Possibly more info here.
Holiday with the Stars
Melissa, Beth Broderick, and David Lascher will be hosting a show about how some celebrities spend their holidays. Celebrities supposed to be featured include: Gwyneth Paltrow, Billy Bob Thornton, Moby, Maria Shriver, Vince Vaughn. Also, pop singer Mandy Moore and Justin Berfield ("Malcolm in the Middle") will be sharing gift suggestions. This will be shown on Channel 59, at the following times:
Wednesday 21st, 5PM
Friday 23rd, 10AM, 1PM
Sunday 25th, 8AM
Tuesday 27th, 1PM

Melissa Posters
I was looking for posters of Melissa the other day, and I came across a few at AllPosters.com, you can have a look at all the posters they have of Melissa by clicking on the image below, they've got some really good pictures, I just wish they were a little bit bigger.


Click here to see all the Melissa posters.
---
11th November
I'm still alive :-)
A few people have emailed me recently, checking that I am still alive, and I'd just like to let you all know that I am :-) It's been way too long since the last update (almost 6 months, must be the longest I've gone without updating). Here's an update on the site, and a few of the things people have sent me in the last 6 months (the things that aren't _long_ out of date :-)
Site Fixed
You may have noticed that a lot of my site has been missing recently (last couple of months) this was due to a couple of things, caused by relying on free hosting space (which is all but useless), Geoshi err Geocities changed one of their policies recently, disallowing references to pages on other domains (wouldn't the Internet be a fun place if you could only link to pages in the same domain?) which completely broke my menu. I had decided to attempt to fix this, but that was when I noticed that Xoom, where all of the actual content of my site, besides these news items, was hosted, had decided to close up shop (without bothering to advise anyone) and delete all the data stored by them (lucky I had a reasonable recent backup, from the last time Xoom deleted all my files) so I gave up, and had resigned to letting the site continue to break down until there was nothing left. I have managed to find some hosting space now, from the great blokes at nyip.net but if my traffic is too high, I'll be in trouble again, so I haven't put any of the video files back up yet (and I want to reencode them to DivX for smaller files sizes, and lots better quality anyway), so don't email me about broken video links, but please email me about any other links (pages, pictures etc) being broken. Oh, and I'll try to keep the site updated this time :-)
Melissa on "Hot Ticket"
Starting with the latest news first, Donald Ferry has put some vidcaps of Melissa's recent appearance on "Hot Ticket" up on his site, and you can view them here.
Another Sabrina spinoff
According to an article on TeenHollywood.com, Viacom is planning to produce a new STTW spinoff, based around a talking dog. You can view the article here.
New animated STTW videos
I was advised by an employee of Lions Gate Entertainment that 2 new animated STTW videos would be released around August 28, there might be some information about them on their site here.
---
October 2001
---
No Updates
---
September 2001
---
No Updates
---
August 2001
---
No Updates
---
July 2001
---
No Updates
---
June 2001
---
No Updates
---
May 2001
---
19th May
Australian KCAs
The Australian Kids' Choice Awards was shown on the 12th May, Sabrina won "Favourite Australian TV Show", but Melissa's nomination in the "Favourite TV Star" category lost out to Tommy Pickles from Rugrats.
What is "Sabrina the Teenage Witch"?
Jeopardy's Teen Tournament stared in the US a few weeks ago, and on the 8th of May, there was a Melissa related reference made in the category "Three Cheers for Britney Spears", and the answer was "Britney's song Soda Pop is on the soundtrack of this show starring Melissa Joan Hart", to which the answer was "What is Sabrina the Teenage Witch".
Douglas Adams
I'm a big fan of Douglas Adams, and some of you may have already known that, if you've emailed me, since I often use Hitchhikers Guide to the Galaxy references as a signature on my email, so I was saddened to hear that Douglas passed away on the 11th. The reason I'm mentioning it here, is because I want to raise awareness of "Towel Day", of which I'll be participating, and I want to see as many of you participate as can. Basically, on the 25th May, just conspiciously carry a towel around with you all day, and inform anyone who asks you why, as to the fact that it's to show your appreciation of Douglas' lifetime of work. I know this isn't Melissa related, but too bad, this is my site, and this is important. :-)
Read the article that's inspired me to mention this here, and participation for 2002 is detailed here.

---
4th May
KCA 2001
here is the press release for the Kids Choice Awards 2001, no mention of Melissa.
Nate Richert Chat
Donald found an online chat with Nate Richert, you can read it here.
Late Show
Melissa appeared on the Late Show with Jay Leno on the 23rd April, thanks to Thomas there are some pictures here.
Hart Birthdays
It was Paula Hart's (Melissa's mother) birthday on the 25th of April, and Emily's (Melissa's sister) on the 2nd of May.
Young Hollywood Awards
From here, and article about the Young Hollywood Awards, and from here, and article mentioning the Melissa was scheduled to appear there, it occured on the 29th of April, and I haven't heard as to whether or not Melissa did appear.
Old Melissa chat
Donald also came across an old chat with Melissa here, some interesting things in this one.
STTW back soon
According to Melissa's personal asistant, STTW starts back up in July.
STAS in Aus
Sabrina: The Animated Series is starting in Australia, the first episode will be shown tomorrow morning, on channel 7, sometime between 7am and 9am, for those people in Australia.
Pictures for auction
Melissa has donated at least one autographed picture to an auction for an animal shelter to raise money. More details are here.
---
April 2001
---
22nd April
More Birthdays
It's Paula Hart's birthday on the 25th, and Emily Hart is turning 15 on the 2nd May. Bit late to send a card to Paula, but you'd still be able to get one to Emily (although I'm not sure of an address, maybe just send them to Melissa's addresses).
KCA 2001
Ok, the 2001 Kids Choice Awards are currently showing across the US, they've finished on the East Coast, and they're about to start on the West Coast (it's 7:49PM there as I type this), so I would have expected to have heard something about them by now, ie. if Melissa did get her award, or present or whatever, but I guess I'll be giving an update after it's shown on the West Coast. Oh, and it looks like Rosie O'Donnell is hosting/did host them.
---
21st April
Almost The End
I was going to post a bit of news yesterday, regarding the fact that I've been doing these updates from my laptop, and that I left that job, so I had to return it yesterday, and I wasn't very likely to be updating the site (since I do my updates on my laptop, while I travel to work in the morning). I was about to post that.. when I realised that the pages I'd updated with that, I'd left on my laptop, that I'd just wiped, in preparation for returning it. My new job keeps me so busy, I didn't have time to re edit those pages and upload them, and I'm sort of glad, because when I got home, I've got a bunch of news to report. It's likely these updates will become weekly, and I'll be doing them at some time over each weekend, unless someone's got a laptop for sale they'd like to offer me? Anyway, here's the news:
KCA2001
Apparently Melissa will be appearing at the 2001 Kids Choice Awards, possibly as a presenter, and I think she's been nominated in the "Favourite TV Actress" category, running against Sarah Michelle Gellar, Brandy and Amanda Bynes. The 2001 KCAs will run for 90 minutes, and can be seen tonight at 8PM, and repeated tomorrow at 4PM, and on Tuesday at 7PM.
MJH, Nascar Driver
From here Melissa's favourite website is www.cart.com, and she plans to take part in the Bob Bondurant School of High Performance Driving to hone her skills. There's a picture to go with this here.
Melissa interviewed
Melissa was interviewed by TeenHollywood, and you can read the interview here. I was very surprised to see Melissa's answer to "When was the last time you threw up?".
---
18th April
Happy Birthday Melissa!
I realise that in the US, there's still a few hours to go, but over here it's Melissa's birthday, so Happy Birthday Melissa :-)
Yoga
Apparently, according to this story, about Yoga, Melissa and Soleil Moon throw yoga parties. Interesting.
---
17th April
Rent Control
Melissa is starring in a dark comedy called "Rent Control", also starring Carmen Electra, Ryan Browning and Andrew Kavovit. You can go here to read more.
Silberkleit
Michael Silberkleit's at it again, there's an article here, regarding "Josie and the Pussiecats", and it mentions Melissa:
Silberkleit is famous for going after anyone or anything that might compromise the wholesome image of his characters, which include the shapely Pussycats and Betty and Veronica. He made headlines in 1999 when he demanded that Melissa Joan Hart either quit the Sabrina, the Teenage Witch TV show (he puts out the comic book) or apologize for appearing in skimpy clothing and discussing sex and drinking in a Maxim magazine article.
Tonight Show
Melissa will apparently be appearing on the Tonight Show with Jay Leno, on the 23rd, but of course that's subject to change.
---
13th April
Friday the 13th
I watched episode 34, "To Tell A Mortal", the other day, where Sabrina is able to tell mortals that she is a witch, and they'll only remember for the day, it's also a day where Salem is able to scare the living daylights out of anyone, so since today is Friday the 13th, here's a picture of him so he can do it to you! :-)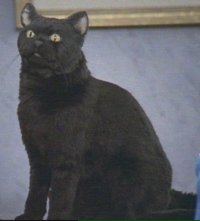 Melissa on KTLA Morning News
I finally managed to find out some more information about Melissa appearing as a guest on KTLA Morning News the other day. Melissa appeared on there on Friday, with Emily, and they talked about Emily being in STTW the other day. You can stream a video clip from this page, or you can download the video from the downloads page. Even if you just download the clip from my site, have a look at the page you can stream from too, there's lots of pictures and interviews with other stars of STTW.
Caroline Rhea's Birthday
It's Caroline Rhea's birthday today, and don't forget Melissa's on Wednesday.
---
11th April
Kentucky Derby
An article briefly mentioning Melissa at the Kentucky Derby, and the Mint Jubilee is here. I didn't realise the Kentucky Derby was on May 5. A couple of days ago I mentioned that Melissa had attended the Mint Jubilee, guess I'll go fix that now :-)
KTLA Morning News
A couple of days ago I mentioned that Melissa was going to be appearing on KTLA Morning News, well, the person who let me know about that fact forgot to watch the show, and there was a possible muckup with which day Melissa was going to be appearing. I don't know if Melissa was on there, either on Thursday or Friday last week, so if anyone did see her on there (or even better, has some video of it) please email me.
---
9th April
STTW Webring
My site was reinstated as a member of the Sabrina The Teenage Witch, and the ring map can be seen at the bottom of the page.
The Mint Jubilee
Melissa will be attending The Mint Jubilee in Kentucky on the 4th of April, you can read about it all here.
Hexcellent Spinoff
There's an article about Witchwright Hall here. Never mind the small mistake that says Emily was introduced during the 97-98 season (it was in fact the 96-97 season, and in particular the 6th episode).
Prism Awards
Melissa appeared as a presenter at the fifth annual PRISM Awards in Los Angeles, it will be broadcast in August. You can read more about it here.
Sabrina the Teenage B....
An article appeared the other day, titled "Television Shows I'd Like To See", it starts off reasonable funny, with shows like "Fiends", but then I thought Melissa's entry was a bit harsh. You can probably guess the title of her show from the headline above, but if you can't, or you want to read the article, it's here.
---
6th April
Sabrina Doomed?
USA Today came out Monday with reporter Gary Levin's always-painful-to-behold list of series he believes doomed or under consideration for doom. Sabrina the Teenage Witch was included on this list, you can read the whole thing here. Let's just hope he's wrong.
Will Ferg and Clarissa ever reunite?
The most recent episode of "X2radio" claims to answer the above question. I haven't listened to it yet, so I don't know what the answer is, anyway, you can listen to it by visiting x2radio.com
4 Paws for a Cure
Melissa took part in the "4 Paws for a Cure" event the other day, and a couple of pictures have surfaced, one is here, and some more can be found here.
KTLA News
Apparently Melissa was to be appearing as a guest on KTLA Morning News in LA on the 5th, I'll mention if I find out anything more about this.
---
3rd April
Melissa Interviewed
Melissa Joan Hart, "Sabrina the Teenage Witch" herself, recently guest hosted an episode of Channel One News. ChannelOne.com caught up with her to get this exclusive interview.
---
2nd April
Who Wants To Be A Millionaire?
There was a Sabrina related question on "Who Wants To Be A Millionaire?" recently, apparently for $32000:

Which of these TV shows is based on a character from the Archie comic book series?

A. Saved by the Bell
B. Sabrina the Teenage Witch
C. Charmed
D. Boy Meets World

He got it right after polling the audience of which only 44% got it right.
4 Paws for a Cure
Melissa is the Honorary Chair of "4 Paws for a Cure", a dog walk designed to raise money for the "National Childhood Cancer Foundation (NCCF) while raising consciousness about this deadly disease". You can see more about it here.
Fanmail Address
The other day I said I would attempt to find out the most current fanmail address. While the WB one above will probably always work, I was able to confirm the Paramount one:

Melissa Joan Hart
5555 Melrose Ave.
Modular Bldg. 100
Hollywood, CA. 90038
Melissa's bar
Melissa is listed as an investor in "The Sunset Trocadero Lounge", at 8280 Sunset Blvd., West Hollywood. More can be read about this here. Sounds like a great pub to me! BTW, this article is from December last year, I don't know where it's been hanging around (and for once it's not my laziness :-)
---
March 2001
---
30th March
Sabrina Goes To Rome
In Australia, "Sabrina Goes To Rome" is being shown on Foxtel, on Showtime, a couple of times soon, It will be shown at 7pm tonight, and also 8.35am tomorrow morning.
Melissa's Birthday
It's now under 3 weeks to Melissa's birthday, I'm going to try and find out the best email address to use to send fanmail to Melissa, so if you're going to send a birthday card to Melissa, you might want to hang off posting it for a couple of days.
---
29th March
Melissa at Six Flags Magic Mountain
According to a press release which you can read here, Melissa will be appearing at "Six Flags Magic Mountain", to celebrate the debut of 1 of 3 new "Xtreme Coasters". Well, this should make for some good photos, I can't wait for those.
Melissa Poll
There's a place you can vote for Melissa, the Top Celebrities or something, anyway, just go here and vote. I think Melissa is getting close to being in the top 50 at this point.
Witchright Hall
The April 6 episode of Sabrina the Teenage Witch is going to be a pilot for a new spinoff show called "Witchright Hall". Emily Hart will play the main character, in a show which is about a special school for young witches. You can read more about it here.
---
28th March
MTV Cribs
MeJoHart sent me a rundown of the other day's episode of MTV's "Cribs", here's what I was sent: "The show was 30 minutes long broken up into 2 segments, Melissa's house was featured first. Melissa showed each room of her house and her closets and backyard. A couple things that she pointed out was her collectables, bottles of Gin and bar which had a sign saying "Witches Brew" above it. Melissa's backyard has a hot tub which she says she spends most of her time in. It is worth seeing the rerun but it only lasted about 10 minutes."
Planet Hollywood Fansite
About 3 1/2 months ago, my site became a "Planet Hollywood Official Fansite". I've finally got around to putting the link/graphic on my page, and you can see it below here.
Old News
I've purged all the old news off this page to the archive of news from 2000, which you can see here, and the news from 1999 is here
---
24th March
Hmm..
Unfortunately, it's been so long since I've updated, I have to say "Happy New Year" in this update. Oh well, here we go..
Site Problems
Apparently Xoom decided to delete all my files again, leaving half my site missing. It seems that noone noticed, since I didn't receive any messages from anyone about it, which makes me wonder if anyone visits my site anymore. Oh well, luckily I had every page backed up, unfortunately the backups I have aren't the current version I had up on the web, so some of the pages have slightly regressed. Oh, if you find any broken links, please send me an email letting me know what page the link was on, and what it was a link to. Also, I have a winamp skin, "Clarissa.zip", and I don't know who sent it to me, if it was you, please let me know, so I can put it back on my downloads page.
MTV Cribs
MeJoHart informed me that Melissa's house was going to be seen on MTV's "Cribs" on the 22nd, unfortunately, that's not much use now, since I took so long to update the site. Maybe it'll be repeated.
Josie and the Pussycats
There's a new movie coming out soon, "Josie and the Pussycats", you can see more about it on the website. Maybe Melissa will be at the premiere?


---
February 2001
---
No Updates
---
January 2001
---
No Updates
---
Back to the start page.